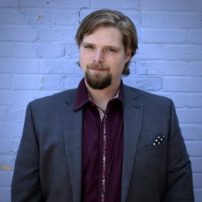 Daniel Warren Hill
About
Daniel Warren Hill is an American Musician, Media Developer, and Entrepreneur. He is best known as the frontman for Washington DC area Alternative Rock band YellowTieGuy; owner of music news and entertainment outlet Alchemical Records; and co-founder of the diverse and inclusive musician empowerment organization, Capitol Groove Collective. Daniel's life-long vision has been to set an example of how to achieve creative, financial, and spiritual success by tapping into the value of your own creative outlets and artistic endeavors. 
3 Keys for success
DEVelopment
DEV: 3 Keys For Success In Your Creative Career is about the principles that have proven effective in increasing the success and satisfaction of the creative individual, whether pursuing a full-time or part-time career in their creative persuits.
Increase Your Satisfaction
01.

Discipline

Discipline isn't a dirty word. Rather, it is the acceptance of embarking on a journey that acknowledges our personal responsibility to ourselves and to our objectives.
02.

Enthusiasm

Our ability to maintain a healthy enthusiasm for our work directly impacts our ability to maintain creative liberty and a life-long appreciation for discovery; shared with those who journey with us.
03.

Vulnerability

Allowing ourselves the ability to be vulnerable is a primary component for growth beyond our existing comfort zones, the development of interpersonal relationships, and risk management.
Join my exclusive PRE-READ Club for DEV: 3 Keys For Success In Your Creative Career  and be a part of the writing journey by emailing me at: inspireme@danielwarrenhill.com
Enthusiasm
The Work Continues
Musician
Songwriter/Producer/Engineer, Guitarist/Bassist, Vocalist
MEdia Developer
Writer, Producer, Video Editor
Consulting
Branding, Marketing, Sales
Speaking
Motivating, Inspiring, Educational
Writing
Author, Journalist, Copy Writer
Allow yourself to be vulunerable, and reach out.